I decided to mock up the windshield and see how it looks. It really does make it look more complete. I'm wondering if the wind deflection on this windshield will help at all. I'm really curious. Will post the results of test drive once the rivets arrive in the mail, and the windshield is installed.
The instrument panel really does look more "full" with the new windshield. I'll bet it'll make it easier to read the instrument cluster in full sun.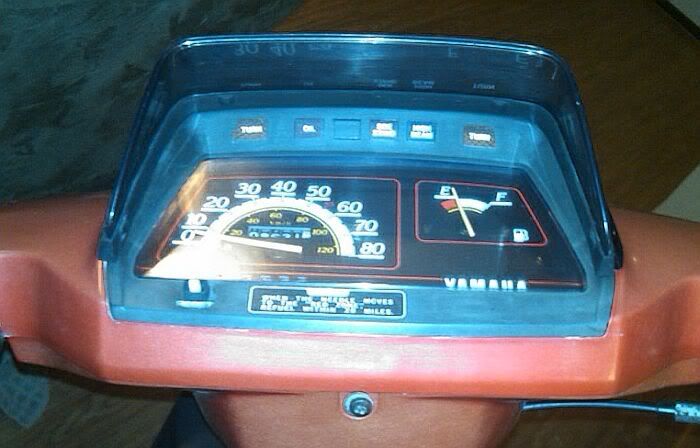 On that topic of wind deflection, I have noticed that my scooter has more "side to side play", now that the trunk is installed on the rear. Meaning, it seems to be a little bit easier to tip the scooter over (either side) while parked, and while stopped at a traffic light. (Scooter feels more heavy when you tip it to the side, too) The trunk messed with the center of gravity of the scooter. (Higher center of gravity now)
While it makes it a little bit harder to keep the scooter straight, the trunk actually helps with cornering. Odd. With no surprise, it does help keep the scooter more stable at high speeds. (50+) With the latest changes, I am no longer comfortable letting an inexperienced friend try the scooter out. Too much money and time invested.
Investment so far:
Scooter: $400
3.5x10 tires mounting, oil change, & Carb clean: $180
ETC MISC cleaners, chemicals, paint, steel wool, sand paper, polishing disc, etc... $70
Parts Scooter: Free
Windshield: $30
Mirrors: $20
Bike cover: $25
Teflon Scooter lock: $17
Air filter/plugs/oil filter: $40
Title/Registration/Inspection: $60
1 year insurance: $115
1st glovebox from Jack: $20
Trunk: $50
Grips: $14
1st flat seat that was a dud: $45
Manuals: $45
License frame and reflectors: $11
SMD lights for brake and turn signals: $44
Rear brake light to be mounted under trunk: $19
New 4.00x10 tires mounted on 2nd set rims- Tires plus dismounting/mounting service: $95
"Scooter tie"- a strap designed to go over handlebars for transport: $12
Trickle charger- $35
Battery: $45
Clear scooter wraparound eyewear: $17
Helmet (that I don't use) $34
35 gallon Rubbermaid bin that I use to store my parts scooter in: $8
Misc fasteners $15
What else am I forgetting??? ....$$$$
Not yet done: Tranny fluid change, flat seat installed.
Total: $1,466 invested that I can remember. I expect to recoup around $350 when I sell off all my parts that I don't need. But, it was very much worth it. I have a scooter that's probably the fastest in Austin, or close to it. But, how many can say they have a sweet 1980's scooter that is in perfect running order?
I probably saved around $700 doing most of the labor myself.